These are the 10 best salad tools and equipment to take your salads to the next level. With these in your kitchen, you'll be able to make salads quicker, tastier, and prettier too!
For everything from chopped salads to simple green salads, these 10 tools are must-haves if you regularly make salads or want to make them more often.
These are all tools that I personally use and love (some of them on a near daily basis for years)! I've tried *many* salad tools and these are the ones that are SO worth it to have in your kitchen.
Why The Right Salad Tools Are So Important
Having the right tools can make all the difference when it comes to salads. Even tools as simple as the lemon squeezer or garlic press in this list will save you valuable time and make less mess to clean up.
Plus most salads require lots of chopping. There are several items in this list that will help you get your chopping done in a fraction of the time (the veggie chopper, mandolin, scraper).
How These Tools Can Help You Make Better Salads
Even the most basic salad recipes can be delicious when they are made right. And that's what these tools will do — they'll equip you to prepare your ingredients so that your salads are easier and tastier every time.
For example, when making a salad dressing it should be mixed until it's emulsified (fully mixed and thickened). There's no easier way to do this that with an electric whisk. It's like magic — it will instantly make your dressings thick and creamy.
And there's a couple items that have a 'wow' factor for making pretty salads (the veggie chopper is one)!
About This List: Beginner Friendly, Everyday Items
Everything in this list is available from Amazon, and all are beginner-friendly items.
---
The 10 Best Must-Have Salad Tools
1. Veggie Chopper
An easy & quick way to dice veggies! Saves time chopping and makes clean-up easy. Comes with multiple size options and inserts.
2. Salad Spinner
A must-have for making salads! This one is good quality and easy to use. This removes any moisture from your lettuce leaves, which means they won't get soggy and will cling to your salad dressing better.
3. Electric Whisk
Use this to mix your salad dressings. An electric whisk is an easy way to emulsify & fully mix your dressings. This can make your dressings thicker & tastier.
4. Mandolin
Finely slice fruit or vegetables with this handy mandolin. It's a game changer for the texture of salads... Use it to thinly slice the apples on your salad, make a sliced cucumber salad, etc.
5. Lemon Squeezer
This is useful for so many salads! It's the easiest (and most efficient) way to squeeze a lemon. This one is sturdy enough to last and gets all the juice out.
6. Scraper & Chopper
Perfect for when you're doing a lot of chopping, this convenient tool can chop and then scrape everything into the bowl. Makes salad prep go quicker!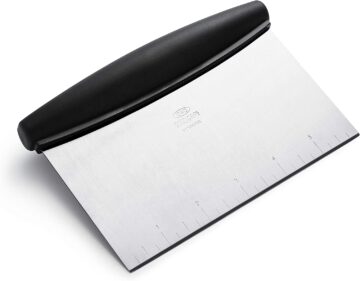 7. Garlic Press
Another tool that's a daily must-have! A solid garlic press. Rather than chopping, mincing, or grating, I find that this press gives the best flavor for salad dressings.
8. Small Mason Jars
The ideal storage container for salad dressings. Plus they're a great price for a pack of 6. Makes it simple to store leftover dressing or prep some to keep in your fridge at all times!
9. Large Serving Bowl
A large salad bowl that comes in a pack of 2. Pretty, functional, and the right size for medium to large salads. Fancy enough for when guests come over and practical enough for daily use.
10. Large Knife
These are my go-to recommended knife brand because they are superb, well-shaped, and professional-feeling quality for the price. A sharp, large knife is a must-have when making salads regularly. This is Chef's knife, which is large enough to chop everything for your salads & more.